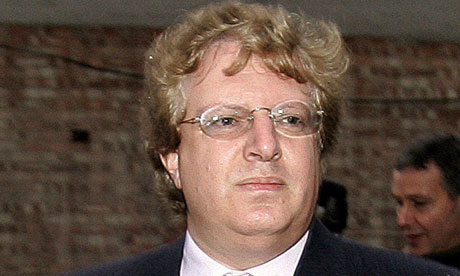 It's now become boring. It's the story that refuses to go away and like a bad smell, it just lingers on.
In 3-4 short years, we have seen EMI's former CEO- Eric Luciano "The Biscuit Bungler" aka "The Farmer" Nicoli, CBE- rid himself of Chairman and Co-Chairman Alain Levy and David Munns and take EMI deep down into the bowels of horrible, wretched, divide-and-conquer politics that shot out of every senior executive's ass who was around during that time. It was like working in Hades with a burning pitchfork up your arse.
Nicoli, also known as "The Smiling Assassin", then bought himself a nice little [?] golden handshake by selling the then-publicly listed music company to private equity wankers Terra Firma and the Terrarists led by Guy Hands- and then getting fired and being nicely paid off for the "honour" of being told to f*** off .
Then- have you nodded off?- we had The Guy go through a series of people- the inept, like the hiring of Elio Leoni-Sceti, below, who was known for something like marketing some cockroach repellent, or selling Woolite, and even the experienced- they didn't last- to try and put Humpy Dumpy together again.
It never happened, Hands got egg on his face, ran out of dosh and time and had Citigroup acquire the music company. Like Mum said, never a lender nor a borrower be.
Of course, the question has always been, What the hell is a bank going to do with a music company when music no longer sells in the traditional- and non-traditional-ways?
Now comes the news that EMI, the once-famed home of the Beatles, Pink Floyd, Bowie, the Beach Boys etc and, simply put, some of the greatest music ever recorded, is to be "auctioned off". And, like a bad smell that won't leave, one of the bidders is said to be- gawd no- Guy Hands.
Here is what the Daily Snapshot wrote:

Citigroup's Plan for EMI? "They're Going to Auction It…"
Not if, but when. And not later, but sooner. "They're going to auction it," ousted EMI owner Guy Hands recently told a business crowd, referring to Citigroup. "And we will see if they can get more for it than we offered."

That neatly fits into the latest chatter. Most expect a Citigroup dump-off in the short term, and Warner Music Group is apparently hastening its sell-off plans as a result.
But there are fresh rumors related to the role that Guy Hands could play in all of this. Instead of walking away wounded, Hands may actually jump back into the game. In fact, British publications are reporting that Hands may actually invest in Warner Music Group, perhaps grabbing a minority stake.
Taking it a step further, Bloomberg notes that Hands may also be interested in EMI, despite the nauseating and rocky ride. "It's a question of price," Hands told the same audience.
So, round two?
Here is what could be ironic: Asia was always reminded that it only made up- at the time I was there, anyway- 2.7% of global sales. It is now probably worth about .007% of global sales. But where is the money these days to buy anything?Asia.
Forget China and India. Hell, Indonesia, Singapore, Malaysia, Hong Kong, Vietnam, they all have cash-rich businessmen and entrepreneurs.
In Hong Kong, for example, there is Pacific Capital which recently bought out Norman Cheng, the founder of Gold Typhoon Entertainment. But they are not in the same league as Richard Li, head of Pacific Century Group, who is still looking for the home-run to follow his mega-success when he sold that "wok in the sky" called STARTV to Rupert Murdoch's News Corp almost two decades ago. That's a long time between hits, let alone home runs.

The sale was for waaaaaay more than it was worth- almost, say those there at the time, around US$400 million more than it was worth and the deal "woven" to play on Murdoch's ego/dream of marching into China. What? With that "wok in the sky" that had BBC News among its channels? Into China?
Come on, Rupert, even marrying Wendi Deng – ex-STARTV-could not pry open those doors and break down that Great Wall. Yes, the old fox was out-foxed. It was Little Richard's Finest Hour. It was the old fox's one Achilles heel.

In the past decade and a half, however, Richard Li has gone from wunderkind to, perhaps unfairly, somewhat of a caricature – the man few understand or bother to understand- and with his PCCW albatross being the most reviled company in Hong Kong.
Yet, despite his now well-documented series of so-called business flops, Little Richard is not hurting for a quid. He just needs a damn good PR man to get the local media on his side and rid himself of those old school thinkers guarding their golden goose.
Richard Li loves showbiz, he wants to rub shoulders with show-busy people and- wait for it- was actually going to bid for EMI before Hands and his Terrarists moved in. But he got bad vibes and pulled out early. Pulling out early is always good. If not, one could have one big mess on their hands.
So, if Citigroup is going to have this fire sale, there is a strong chance that, instead of someone bidding for the sofa, Edgar Bronfman Jr bidding for the signage, McDonald's taking over the staff canteen at Wrights Lane etc, one business/company will just take it all over. And don't be surprised if this outright bid for the whole ball of wax comes from Asia.
The question is this: So someone buys EMI. And then what?