A friend sent me the article below and which shows the mighty reverence in which Bryan Adams is held in India.
http://www.thestar.com/news/world/article/937354–bryan-adams-star-burns-brightly-in-india?bn=1
When at Universal Music, apart from the US and Canada, India was the mild-mannered rocker's biggest touring market. They loved him over there- and they still love him today. Who would have thought he just toured India. There I was thinking he had "done a Greta Garbo" and "vanted to be alone".
http://www.bryanadams.org/index.php?option=com_content&view=category&layout=blog&id=35&Itemid=137
India is a strange music market in that in the middle of the foothills of those singing and dancing Bollywood hills, there is this very hardcore kingdom of Rock fans.
When "numbers" mattered, India always gave us huge numbers on any release, or Re-Mastered release or the old con of a "Bonus CD"- bung in a few crap tracks we found lying about- for acts like Deep Purple, Pink Floyd, Bon Jovi and, this might be too weird for some, Iron Maiden, Judas Priest, Mr. Big, Scorpions, below in India, and Jethro Tull.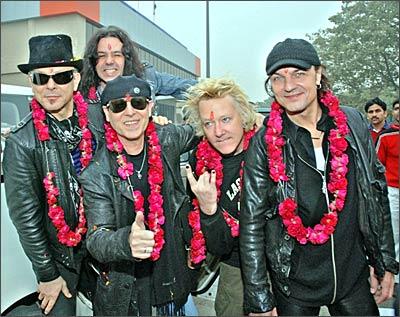 As anyone who is a fan of the last act mentioned knows, Ian Anderson, the singer with Tullwho used to play flute balancing himself on one leg, is now a multi-millionaire through his various fish farms. But every now and again, the band gets together and plays India, easily selling out venues of around 30-40,000.
They have even played and toured with Norah Jones' half sister, sitarist Anouska Shankar, below with Anderson. I even have a flute autographed for me by the great man.
Iron Maiden, Deep Purple, especially, Pink Floyd, have god-like status in India whereas every Bollywood actor seems to want to look like Enrique Iglesias.
Iglesias The Younger has already recorded duets with Indian artists and women- and men- swoon over him. In India, one needs to use words like "swoon", "gorgeous" and, more recently, we have moved from "man" to "dude".
Though there are all the world's greatest techno-crats now back in India and moving the IT business in that country onwards and in leaps and bounds, musically and "groovily" the place is happily and hopelessly old-fashioned- and in a good way.
Sure, sure, there is a following for Akon, T'Pain, Snoop Dogg and the Pussycat Dolls, but India and Hard Rock go hand-in-hand though, when it comes to "hard rock", it's mainly the ballads that have the most appeal.
Metallica, for example, have a following and there will be some mild head banging. But, it's their ballads which mean the most.Same with Scorpions, and same with Enrique when he bursts into "Hero". It's just so cornily dramatic, it's "cool" and "groovy."
Same when Bryan Adams kills the audience with "Everything I Do, I Do It For You." There is not a dry seat in the house.
What most Rock bands, especially out of the States and Canada, don't realize are the number of obscure bands that have found out the equation, India=hard rock, and have turned the country into a tidy little touring market.
The money paid by local promoters is really not too shabby. Plus, the entire band is treated like royalty. Sorry, but who are the Black Lips, below? They've played India a few times along with so many bands I have never heard of. Perhaps this is "my bad".
India has money and look at what an act like Akon or T'Pain can demand to record one duet with a local artist and appear in a video with them: A minimum of US$150k.
Someone like Nicole Sherzingher from Pussycat Dolls can get as much as US$350k for a cameo appearance in a Bollywood movie.
There have been in recent months and years, emails to me saying, "Dude, you gotta come to Mumbai, dude, we have [fill in the blank] performing next week."
I follow music and think I know my music, but I have never heard of some of these bands who are brought over there- and paid so damn well- and then hop down to Sri Lanka and play some gigs over there.
I have watched some YouTube links of bands that have toured the country and they all appear to be sons and bastard children of Megadeath. It's head-banging stuff and with the pre-requisite to being a touring band seemingly having to be that every member has tattoos and shoulder-length hair and a lead singer who can scream. Katatonia from Europe, for example, are big in India and have also toured the country.
Live and let live and if this is what India pays to watch and enjoy, good for them. It just shows that touring is not a huge problem. Bands just need to realize that they need to look outside their normal square and beyond the usual places.
And here is what makes India- and other Asian countries- also a little sad: Seldom will they invite or welcome "one of their own"- meaning a Rock band from somewhere else in Asia like the Philippines or Indonesia to perform there. The grass is always greener somewhere else- meaning the West.
A Rock outfit from any place else, especially Asia, is simply settling for second best from a Third World Country.
Everyone else, no matter how musically, well, inept, is welcome. They have the "image" going for them.
Strange world, but it's our world, we built it and we live in it.
Can we change it? Perhaps.