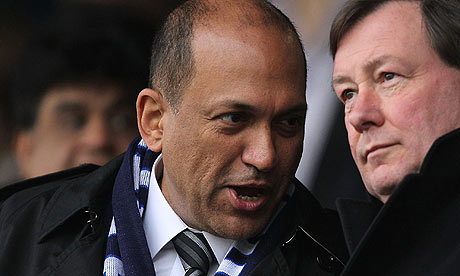 Now, one hears that the man might purchase EMI from Citigroup. If nothing else, he is certainly in the news- and making news along with piles of money.
If one were to read some of the UK sports pages these days, Balram Chainrai- "Balu" to his mates- would be the devil incarnate of the football world. Or Scrooge. Or Willy Wonka. But, let's back up for a sec: Balu whoooooo?
Balu Chainrai is the Hong Kong-based businessman who, around two years ago, suddenly found himself owning the football club Portsmouth. The previous owners had gone belly up and "Mr Balu" who prefers nightclubs to football clubs was "presented" with one- and one on the brink of collapse- and which he saved.
As someone who has known Balu for a number of years and knowing him to be a man with a buffet table of business interests, even I was confused by the news. Balu? Football? Owning a football club? It didn't quite "equate" in my brain. Then again, neither did the picture of Balu rubbing shoulders with royalty and being pukka. It was all too weird.
Balu has always been this larger-than-life character who did- and does- everything bigger and better and then even bigger than anyone else.
His voice booms across restaurants, clubs, he bangs his fist on tables when he laughs or to make a point, he enjoys his vegetarian curries, he loves his scotch, he is addicted to making deals- and winning at everything, and, if he likes you, you are mates for life.
Do anything dodgy, and he'll fix you with a stare for what might seem like an hour, take a swig of scotch, smile, shake your hand, big you a good day and you'll leave not knowing what the hell he was thinking about.

Today, Balu Chainrai is in the news for, says a small vociferous group of Portsmouth supporters, not "investing enough" in the football club.
Drawn in with him in this saga is his Israeli business partner Levi Kushnir. But why "invest" in anything that one doesn't have any feelings for? Or cannot see a profit? A football club? In the UK? As an investment? By Balu? Nah.
This saga has an almost Shakespearean tone to it and with a mini war waged against the two businessmen- and they are very smart- by one Bob Beech, the chairman of protest group SOS Pompey who has now taken to the pages of- what else?- Facebook- to gain more support. To date, this support is a paltry 1,200 people- and on Facebook, this is chump change for chumps.
Again, to those who know "Balu" Chairai and have spent evenings out with him, the thought of him running a football club- and one which hasn't won a match since before Christmas and is hovering by the relegation zone- all this is highly amusing. As is this latest rumour that he has been approached to acquire EMI. Having heard Balu at karaoke, he is not even as good a "singer" as Terra Firma-rist, Guy Hands.
Many of us can picture him sitting in meetings with the Board Of Directors of Portsmouth, massaging his head, swearing to himself in Cantonese- he speaks it fluently- and wishing he were somewhere else.

A self-made businessman who invested time and money on his businesses in, mainly Eastern Europe, and who is actually known by those who really know him as one of the most generous human beings there is- if he likes you and he is very particular about who he likes and when to drop his guard- he will turn things around for Portsmouth- and for himself, take his ball and go home.
Already, his talks with Russian consortium, Convers Sports Initiative [CSI], looks like yielding more than a draw. As the Indian businessman has said, "From the beginning all I have wanted to do is find a suitable buyer for Portsmouth who can rebuild the club. Talks are going well with CSI and negotiations are progressing. Other parties are interested and we are listening to all offers."
What can we make of this? Well, as a betting man, I'd say that Balram Chainrai has already done the deal with CSI- a rather sad acronym for a company- and is now ensuring that nothing comes back to bite him on his ass.
As for him purchasing EMI, only a total idiot would do even consider purchasing a music company in this day and age unless it is to add to their "CV" and be able to be seen as an "International player."
My mate Balu is no idiot and nor does he care about being "International".
He will be the first to tell you that he is a "Hong Kong" boy who has done very well for himself and then advise you on "the pulling power of money"- and how money can buy you anything you want. The next move is to know when to sell what you have bought- or have inherited- at a huge profit.