First things first: Not that there is anything wrong with it, but this is not "an American Idol blogger's site". Instead, it is an entertainment business and music-based site where I am and have always been intrigued, interested and excited at Simon Fuller's success with a "television pop talent show" I first heard about from him when in the UK and watching SClub7, the group he was managing at the time.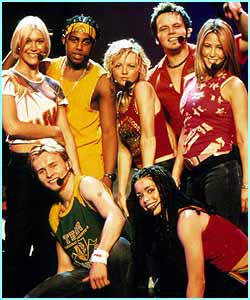 "Pop Idol" became "American Idol" a few years later and with Kelly Clarkson winning the first show and the rest, as they say, is history- or, as far as Simon is concerned, His Story. And what a strange trip the show has been over these past ten years. Watching the video below, makes it seem like an eternity.
The man is extremely smart- intuitively- very polite, trusts few and shuns the limelight- the complete opposite of Simon 2.
I like him and make no bones that We-Enhance was and is influenced by his 19 Entertainment and which is more than the "Idol" franchise- though it is the company's "flagship product" and Simon Fuller's "calling card".
So where are we with "American Idol" today? Well, Season 10 is on the way and it didn't take long for there to be the story of Jennifer Lopez being "jealous" of the attention Steven Tyler is receiving on the show. True? False? Who cares.
If contestant's have "back stories", then so does the show. Always has, always will. Remember the Paula versus Simon stories and then the Ellen versus Simon stories and, sandwiched in-between, the Kara versus Kara [sic] stories and with no one really giving much thought to the whatever is going on at the Yo Yo Dawg Pound.
http://www.hollyscoop.com/jennifer-lopez/why-j-lo-is-pissed-at-steven-tyler_26525.aspx
As mentioned, "American Idol" can resurrect fading careers and, no matter how stunning she is and despite being an "A-Lister", honestly speaking, Jennifer Lopez has done pretty much nothing in years other than being dropped as an artist by Sony Music and picked up by Universal Music.
Yes, she married Marc Antony and had kids, but there was not exactly a "body of work" to sustain this "A Lister" status for too much longer. And now there is: Being named one of three judges on "Idol".
Strange, usually, this- being a judge- would mean some artist's "fall from grace"- going from the big screen to the small screen and being on something like "Celebrity Apprentice" and the truly awful "I'm A Celebrity Get Me Out Of Here"- but the "Idol" franchise is bigger than any celebrity- bona fide, neo or wannabe.
It's the mutha of all Motherships and is a one-way ticket to success for all who sail in her.
Think about this: the brilliant "almost Indie" artist Amos Lee has finally made it and tops the Billboard album charts largely because an unknown contestant from this season's "Idol"- Scott Dangerfield- sang a version of the singer-songwriter's song "Dreamin' during the auditions! It brought the name of the original artist and song to a huge new audience.

Amos Lee's label- Blue Note- has been struggling to "break' Amos Lee- brought to the label by Norah Jones and then-boyfriend bassist Lee Alexander- for years.
Many of us who were with EMI which Blue Note is under have been fans of this gifted artist for years. Visit each others' homes and the odds are that Amos Lee's music will be heard. Now, others are hearing his songs and the artist is reaping just some of the rewards he has been owed for years.

To paraphrase Ryan Seacrest, this is the power of "American Idol": To offer an incredible platform for everyone out there making music- and always- always- surprise people and the most vociferous critic of the show.

http://www.mtv.com/news/articles/1657129/amos-lee-mission-bell-billboard.jhtml
It is this same power that has also helped, let's say, enhance the career of Jennifer Lopez- and Steven Tyler and Randy Jackson. If there is a "feud", if there is some "petulance", if there are "diva-like demands", who cares? It's just a television show and 1-2 hours of harmless mass appeal entertainment. It's not exactly the mind-f*** that "Mad Men" and "Dexter" can be.
Speaking of "Mad Men", I was watching a re-run and always loved this dialogue between Don Draper and one of his conquests from Season 1 of the series: He: "What is it that women want?" She: "Not to be asked that question." He: "I think women want men to care about them." Think about it.
What does Jennifer Lopez want? Probably a huge hit and needing to know she is still relevant. The show's new addition- and still to make an appearance- Jimmy Iovine and his producers will give her this hit. "On The Floor" featuring Pitbull is probably it. It's Club, it's Fashion, it's catchy, it's Lambada.
With the combined power of Iovine, Interscope and "American Idol" on her side, how can Jennifer Lopez fail? Plus, [most] women want to know men- and people- care about them.
As for the auditions in Texas, it was more like a family get-together- safe, warm and the one truly memorable part being the girl who was in love with Ryan Seacrest. Scary.
Apart from contestant Casey Abrams- and any nightmares of being another Taylor Hicks-type "soul man" disappeared when he launched into an adlib of "Fingertips" on his melodica- and one other girl- Janeale?- no one really grabbed me by the nuts. Maybe it was the cold weather we have been having here.
Roll on the auditions in LA.