Though Season 10 of "American Idol" is now upon us, I think back to that time long, long, ago and to Season 8 and Adam Lambert. Only the homophobic and musically-challenged would argue that he was one of the best- if not the best- talents to come out of "American Idol."
Of course, he was found way before the official auditions for the show and it was apparent right from the get-go that he would or should win. He "lost" to Kris Allen, a likeable enough singer and boy-next-door, but packing nothing of the originality of Lambert.
Why didn't the latter win? Votes? Maybe. America not ready for a gay "American Idol", probably.
Still winning/not winning did not matter. To the eyes of many, to the media, he was the winner and he was set to take on the world. There he was making the cover of Rolling Stone even before making his record. He was "The Wild Idol" and the publication was talking about his "liberation" and with plastic snakes carefully "styled" around his crotch area.
Was this a good career move? It seemed so at the time as the debut record was creating a huge "buzz": The very best producers, arrangers, songwriters were brought in and from all the pre-release publicity, here was the male equivalent of a young Madonna and who was going to turn the world on its head.
Having heard him sing on "Idol"- especially, his dark, gloomy versions of "Ring O Fire" and "Mad World", it was fair to expect an absolutely stunning record. This never happened.
The record was weak and over-produced and with way too many musical styles to give this gifted talent and perform a clear-cut image. Few knew what to make of him: Rocker? Glam-Rocker? Nouveau Cabaret artiste? Broadway Idol?
There were rumours that he was gonna join Queen as a replacement for Freddie Mercury. There was talk of collaborations with Scissor Sisters, Mika, Elton John, Madonna, Britney, Lady Gaga. It was all and only talk.
Then came that performance at the American Music Awards where he french-kissed his bass player and the doors seemed to close quickly around him.
This was on prime-time television, it was 'live', it was unexpected and, as people tend to make a hue and cry over things that might be trivial to many, I doubt Adam Lambert has performed 'live' on American television since. It is an unforgiving industry and one is either in or out.
In Australia, New Zealand and Asia, we/they love him. These Radio Deejays from Oz are brilliant- open, funny and a "no worries, mate" attitude. Good on you, boys.
Now, following a World Tour, the time must be fast-approaching for a new record. This time, there is no hype, nothing, zilch, nada. It's all quiet on the Glambert Front. Perhaps this is good as it might mean managing expectations and allowing the music to speak for itself.
Still, one has to wonder if Adam Lambert has been ostracized in the US.
The only "news" I heard about him was last week when he was named one of the "Worst Dressed" at one of those tedious red carpet events for some event. He was dismissed as "trying too hard" to be a Rock Star.
By now, going back to all the fervour and hype of almost two years ago, I would have expected Ryan Murphy to have invited Adam Lambert onto "Glee".
Who knew he actually auditioned for the show six months before "Idol" and was turned down for being "too old".

Despite his denials that talk of him being on the show are rumours and how he would "love to appear" on "True Blood", "Weeds" and "Gossip Girl", personally speaking, I think he would be perfect to play a re-occurring character on "Glee". The sparks, or the camaraderie between he and "Sue Sylvester" could be brilliant and the career boost he probably needs.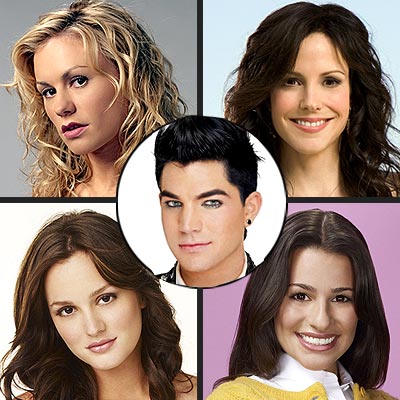 The other night I was listening to the track "Animal" by Neon Trees- love the song- and thought, jeez, I hope the new Adam Lambert moves along more in this type of direction and with the singer working with someone like Mark Ronson.
Nothing against, American Producers, but if trying to capture that Seventies sound along with the Dance sounds of Today, let's not forget that icons of Glam such as Bowie, Marc Bolan etc, all came out of the UK and there is a very distinct- and different- sound to American Pop and Brit Pop or whatever Brit Pop is called today.
I've said it before and I'll say it again: Europe, Asia, Japan, and Australia are markets with no preconceived ideas about Adam Lambert and with producers and songwriters who might be a better fit for him and his band.
I still cannot understand the popularity of Tokio Hotel, the incredible push the band has received from MTV around the world, and the almost indifference and neglect of Adam Lambert in the States. It defies logic.