Before the Christmas holidays, I went  from reading Rolling Stone's Top 50 Songs of 2010 to watching the YouTube video by Hong Kong singer-songwriter Robynn Yip where she sings a cover of the Bruno Mars hit, "Just The Way You Are".
Both were nice in their own bland ways- and, like most things in the music industry today, boring as hell and pretty useless.
As a fledgling journalist, Rolling Stone was my bible, hallowed be its name. It was a real Rock mag. It had all the greatest Rock writers- Ben Fong Torres, Cameron Crowe, Dave Marsh, fleeting appearances from Lester Bangs,  Greil Marcus etc and they delved into the music and psyche of artists like Lennon, Dylan,  Springsteen, Hendrix, the Stones, Led Zep. Brian Wilson and everyone who mattered and have created timeless, ageless music.
These were artists to something to say- with the music and in print. They didn't have to be anything, but themselves. Sometimes thy were not "very nice" but this gave them- and their music- an edge.
When Lennon said that the Beatles were more popular than Jesus the American media jumped on the "Hate The Beatles" bandwagon. It didn't work 'cos the music fans knew it to be true.
If this happened to day, Fox News and Glenn Beck and Co would call Lennon a Satanist. As would seeing Hendrix set his guitar alight and "worship" his voodoo child.
All this "not-niceness", the "rock" journalism of someone as outspoken as Lester Bangs and Dr Hunter S Thompson, the writers who toured with bands, the groupies, the groupies known as the Plaster Casters, Frank Zappa, Dylan, Lennon, it was part of one movement though no one labeled it as one.
It was one movement that was far from perfect, but it toughened us up for all the shit that was to follow. It was a movement where "nice" was another way of saying, "boring".
We had moved past the Nice Age of Pat Boone, Paul Anka, Fabian etc, Brylcreem and gooey Pop. And now, as we lurch toward another new year, we are going back there with "fan clubs" for false idols, Rolling Stone no longer having an edge and "honouring"  cookie-cutter music from the Willy Wonka's Wanka factory.
The Journey between Then and Now for Rolling Stones has been dark, twisted, lost and now sanitized. It's now become some mutant version of what it was plus Hollyscoop, TMZ and Tiger Beat. Dr. Hunter Thompson must be rolling in his grave and doing somersaults before taking a shotgun to his head and singing "Suicide Is Painless".
Today, what matters to Rolling Stones is naming Kanye West and "Runaway" as the Number One Song of the Year. In fact, Kanye West has four songs on the Top 50, the "F*** You" man, Cee-Lo is number 2 the list and Katie Perry is number four. Drake has two songs in there.  Gawd knows why: Who reads Rolling Stone today, anyway and is it still pretending to be a Rock magazine?
http://www.rollingstone.com/music/lists/50-best-songs-of-2010-20101214/gil-scott-heron-im-new-here-19691231
Does what has happened to the publication- becoming just another "nice" read like People and Us Weekly are- tell us much about what has happened to the music industry and how music has lost out to The Gossip Girls, reality television and "beats"?
Who writes for Rolling Stone today? Perez Hilton?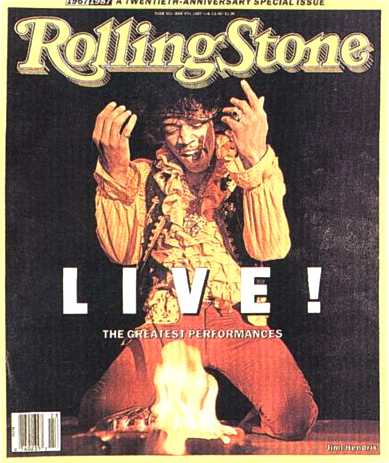 As for "Runaway", it is pretentious, it is deadly dull and the guy is singing outta tune, which, these days, seems acceptable and as "real" as auto tune is fake. Is this the best that this past year has been able to give us- a mediocre melody and "singing" about "toasts for the douche bags" and "toasts for the scumbags"?
Were these lines the song's "hooks" so people can say, "Wow, Kanye put himself down! How cool is that that!??? Think I'll tweat that"? Or Kanye West tweats it himself to show he has become nice.

Do people know what "good music" is anymore? Do they care. Despite "good music" being a matter of  taste, it's all one giant puddle of muddle today- around the world- and it has become just so devalued.
In Hong Kong, there is Hong Kong's Robynn Yip- and there are millions of "Robynn Yips" all over the world- each with their "YouTube Channels"- and they all sound the same, they all sings cover of the same current hits and seem to be in the same musical fraternity. And soon, they would have uploaded their nice singer-guitar versions of "Runaway". Maybe they already have.
Look, someone like "YouTuber" Jason Chen- yes, Whooooo?-  has a good enough voice, but unless recording these current covers are for fun and for friends and family, what is the point?
Are these auditions? If so, for who? Is this the new way of getting "your" music out there? But wait: These are covers. And there are hundreds of covers of the same song.
I have absolutely nothing against people uploading these videos, but is there a point to it other than "doing a Nike" and just doing it?

I have met Robynn Yipp a couple of times- a very sweet girl- and think she is one of the better musical talents in Hong Kong. At least she can play guitar and stays away from trying to be a Hello Kitty doll.  But as I watched her video, I almost fell asleep. Not only was it pointless, it was and is deadly dull.
Robbyn is what one can describe as a "tuneful singer" and a "YouTube success" which, as a mate told me the other day, is "just another female singer who plays guitar, sings covers, and uploads their videos onto the channel".
She- and many like her from around the world who host these YouTube Channels- are inferior versions of Colbie Caillatt who is no original in the first place. Colbie Caillatt is safe, nice, predictable pop.
Katie Perry is "dangerous" compared to her  'cos she flashes her boobs more and is married to the quite mad Russell Brand. And how in earth did Katie Perry make Rolling Stone's Top 50 list? That's almost an oxymoron.
Why didn't Choir Full Of Angels "make the grade today, oh boy"? And though not a big fan of theirs, the new track by Linkin Park. Or Mumford and Sons?
Though all these lists and "people's awards" and every kind of other "awards" are meaningless, Katie Perry being "listed" above Janelle and Mary J Blige for music- not popularity- is simply stupid.
Even though it came out the year before, "Empire State Of Mind" should have headed the Rolling Stone list just to show that, one year later, music is on an even more steep decline when it comes to substance. Either that or screw around with heads and list "Like A Rolling Stone" as the "top of the pops" for 2010.
Lists like this make me think there's nothing wrong in just saying to the hell with it and becoming "Hank Moody" from "Californication". At least he's not lying to himself and he's not being "nice" while trying to find himself or lose himself or fit in or check out.
All this niceness/blandness/YouTubeness/instant anything shows how the world- the masses- have been sucker-punched by hype and "back stories" and how being in-yer-face and when given the illusion that there is "nothing else out there", many have come to accept the mediocre and elevate it past the Peter Principle.
Not that  Robynn Yip is mediocre- at least not by Hong Kong standards- nor, like many,  is she something special with that "X factor" and a world class artist ready for prime time. Is Simon Cowell responsible for this mess as well? Making The Peter Principle acceptable?

What if there was no "X Factor" and no "American Idol"? Would this result in a greater Musical Admiration Society?
Having all these "celebrity judges" given people the false impression that they know what they are talking about?
Come on- Paula Abdul, Sharon Osborne, Cheryl Cole- they are all so nice- and commenting on who is good and who and what is bad?
Paula Abdul recordings were some of the first "great" examples in using auto-tune.Some said she was the female "Milli Vanilli".
The woman could not sing. She was a very good choreographer who wanted to be Janet Jackson, someone else who cannot sing. And let's not forget that Miss Abdul was hauled over the coals for using a "vocal double"- Yvette Marin- on "Forever Your Girl", something hushed up very quickly.
Sharon Osborne? What ever made her a judge of music? Being married to Ozzie? Having the thug that was Don Arden as her old man? She is sickeningly nice.
And then there's the Big Pooh Bear himself- Simon Cowell? What has he really produced that will stand the test of time? He is like Crazy Frog and Tincky Wincky: A novelty act.
I went back and watched Robynn Yip's video and, again, all I could think was this: Why?
Sorry, but it's just so pointless. And nice. So, her friends and fans will like a youngish girl singing a nice karaoke version of Bruno Mars' "Just The Way You Are", one of the very few great songs to emerge this year and light years ahead of anything by Kanye West. And then what? It's like a band telling me they have received "good press". And?
As for Bruno Mars, did his cocaine bust stunt his popularity? One solid album and then nada. Maybe he needs to get a-Twittering like Kanye West and start "repenting" on American talk shows and using- key word that- using- Twitter to create a "Twatter persona" behind a few short, "strategic" messages?
If Bruno Mars, I'd also be asking if for a big fat royalty check from YouTube- and not just his publishers- for all these various versions of his songs out there.

These people who keep uploading their videos of cover songs and building a fan base and…And? In Hong Kong- and perhaps around the world- the problem is that none of these artists have mentors or are given any proper career guidance or musical direction. It's all short-term planning.

Why? Have you ever spoken to a Hong Kong music executive about music and songs and direction and arrangements, production and material? All many can ask- and say- is if they can hear something "more punchy", or need to look at photos before listening to any music.
I am sure there are other variations on the same theme and of the same mongrel around the world. It's all style versus substance, but with style/image now taken to an obscene level of importance. I have been at meetings when female singers have been passed over by music execs for being "too short".
Someone like Robynn Yip- and all the other "Robbyn Yips" around the world- deserve more. She sings in tune, writes some good songs of her own and plays good guitar. What next to push her to the next level and "un-nice" her a bit?
Enough already of having one's YouTube Channel unless it is purely for friends and fun. It's all starting to look and sound like Songs from The Dorm. It's Amateurville.
It's now been over six months since Robbyn won some online competition and had an article written about her in the Sunday Post in Hong Kong. Things seemed to be "happening" for her as the prize meant being signed to a local label called Hummingbird and with the company stumping up for a new recording and accompanying video. Apparently, this will be released any day now.
What the hell has Hummingbird been doing all this time and in this pint-sized music market So they bring out a music video of some song. And then what? Instant fame? "Exposure?" The ability for the artist to say, "I have a video"? What does this mean to Hong Kong- population around 7m- and with International record sales lucky to exceed over 1,000 units?
Forget about this "digital world", downloads and "sales" from them. Unless it's downloads off a television talent show like "American Idol" and where one reaches the masses in one fell swoop, the sales are simply not there. Plus what percentage of sales goes to the contestants?
Robynn Yip should have gone to somewhere like St Louis and auditioned and got into the Top 25 on "American Idol." Then again, how far as this got many who have not won or been runner up in the contest? Even finishing in the top two positions is no guarantee for success.
In Hong Kong and with a mini-label or a major, Robbyn Yip is going nowhere. Around in circles, maybe and perhaps she doesn't mind. Perhaps she is happy to be part of the "Hong Kong music scene".
There are many Hummingbirds around the world. And not to say that this is how the Hong Kong "Chapter" of Hummingbird operates, but the usual game plan is to hold an online singing competition, sign up new artists and have the majors "buy off" their contracts. Or create a roster of young unknown talent and sell the company off.
Hey, it's happening all around the world. It's nothing personal. It's just business. Except the artists are being sold on false promises, a bum dream and being royally screwed. .
Listening to these "YouTubers" and their covers, what one notices is this: zero emotion. It makes a song corny and mawkish. It's worse than watching the finale to "The Bachelor". It's all too pat, all too nice.
Nice: This is the word that keeps coming up like a heavy biryani when listening to much of the music being produced and uploaded onto YouTube: It is all too nice. And boring repetitious and similar.
Not having watched a music channel in around three years, I started to watch two of them last week. I realized that the above problem is a global virus: It is ALL truly awful- okay, except for a very few.
I actually saw- and heard- the ubiquitous Ludacris and a pretty interesting track which married rap and Jazz a la Manhattan Transfer. At least it was different to that "raw" and "electronic"  drum beat heard on every other rap track.
I have a great deal of time for Hayley Williams of Paramore and think the chorus to "Airplanes" is strong. But, B.o.B? Sorry, just watching the guy makes me laugh. Where do these similar looking and similar sounding guys pop up from? Do they have their own Yo! Tube Channels?

The past week, I have been asked if I am going to MIDEM. No. What for? To say "I was at MIDEM"? And then what?
I do, however, know some music executives who are going and I have to salute them for having conned their bosses into letting them fly half-way around the world to attend.
What will they do once there? Shop and bring back some "Club" music they have licensed from Europe to show that they have done something.
The licensing deal will die a death and the artists who think they are going to "break into the China market" will end up being "sold" into the slavery of a Hennessy Artistry gig in Taiwan or Shanghai, have their music available via "digital" and never be heard of again.
Except perhaps re-surfacing and singing sweetly on their very nice YouTube Channels.