WHERE'S THE BEEF? WHERE'S THE CONTENT?
Image registered under Creative Commons by-SA license by Mario Pena
http://www.safecreative.org/work/0807030801870
If, as they say, "content is king", there are an awful lotta television channels that need some jokers and queens, let alone a few aces in the hole.
Right now, in this region, there are new channels opening up almost every day. And while it has always been okay to have music channels playing the same music videos on six and 12-hour loops, this just does not work when one has to watch an episode of "Law And Order", for example, 3-4 times a day.
This is exactly what is happening on the Universal channel, whereas "Frasier" is repeated to death on FX, "Mad Men" keeps going to and fro from Season 1 to Season 3, three different channels are showing different seasons of "Desperate Housewives" while the once well-watched STAR World has now stalled and become the channel to watch repeats of "America's New Top Model" and "The Bachelor."
Now, all this means one or two things: We watch way too much television, or many and all these channels are lacking content. It's all a bit like deciding to open a bar or a club and then wondering how to get customers. Here, channels have been opened for airing programming, but it seems that few have enough content.
The one programme we are compelled to watch- because it is so bad- is Season 12 of "The Bachelor" and where a studly bloke from the UK named Matt Grant- even the name is so "soap opera-ish"- is flown to the States to meet over a dozen women who compete for his affections- and afflictions- on-air.
As a good mate of ours was explaining, the irony of these "reality show" is that people behave totally out of the norm as they are on television along with there being the added element of competition.
It's where anything goes and, as the song says, "Anything you can do, I can do better." And so, when said Bachelor saunters around the mansion where everyone is shacked up and takes turns to lock lips with each of the fawning women, this is perfectly acceptable.
This is "reality" in television land and where the woman are out there to bitch and moan and titillate and win the "poor schmuck" over- and who is loving every moment of all this attention- and happening right there on television.
What is amazing is the speed in which these women "fall in love" with him and how they get teary and make asses of themselves to win him over.
Three of them, each singing to him- separately- has been the highlight to date- plus the drama queen antics of Shayne Lamas, the dolly bird "actress" he eventually "won over" and shacked up with until real reality slapped him in the face and he gave her the boot. She ended up posing nude for a few magazines. She is/was the Joan Collins/Alexis Carrington in this soap opera masquerading as a "reality show".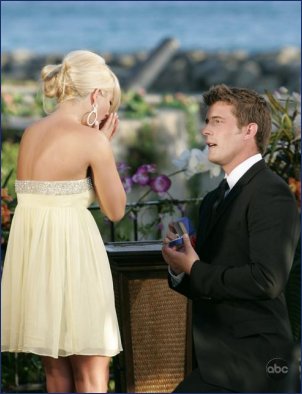 What makes people appear on these shows? Instant celebritydom, instant money, instant fame and with many probably going nowhere with their respective careers and so going for broke.
It's like television talent shows. With music companies no longer having the money to develop and nurture acts, shows like "The X Factor" have taken over this job- even if it is for a few months.
This week, King Simon Cowell of Great Britain proclaimed to the minions that recording contracts will be given out to the first five Finalists which means the world now has three more karaoke singers becoming recording artists and rush-releasing tepid, forgettable albums and, again, under-valuing the worth of those artists out there trying to make it on their own legitimate and God-given talents.
Short-cuts to fame and money and careers seem to be de rigeur. Yes, it's a bit like pimping one's way to success, or, with the old "casting couch" system happening right there on television.
Is it all too much? Isn't it a bit like having too much porn and which makes what was once taboo and exciting, dead boring? How much porn can one watch?
Same with this "reality television" and the cast of characters it throws up- a good expression- and, like those karaoke singers- under-values real acting talent, creative writing, good, absorbing television series and, perhaps, most importantly, insults one's intelligence.
Like music companies, watch all these mainstream television channels many of us have either subscribe to or even get for free as part of "package deals", come apart at the seams.
These days, one watches something once and if people don't like what they see- immediately- they move on.
At least in Asia, the channels FX, Universal, Fox, STAR World, DIVA- formerly the Hallmark Channel, Crime And Investigation, Asian Cooking etc- they are all not working- and not being watched? Why? Bad programming, old programming, inane promo spots- STAR World gets the Wooden Spoon for these- and television delivered just as it was ten years ago.
It does not work this way today- not when one can download entire series off the net or simply subscribe and watch anything and everything- and according to your schedule- via Apple TV.
Again, exactly like many running music companies, those working for these television channels either just don't get it and honestly believe that audiences care only about their product- no matter how many times it is repeated- and repelled- or they simply don't care so long as they get their monthly cheque.
So, where does the buck stop? Sure with the guy at the top and who is probably waiting for a golden handshake anyway. And you wonder why nearly everything today is mediocre? No one cares.
………………………
REMEMBER WHEN SINGERS HAD GOOD VOICES?
Remember real singing voices? One can go back to Caruso and Paul Robeson, Maria Callas and Mario Lanza, but let's just look at real singing voices in contemporary music.
A mate sent me this video of Adele and after all the talk about auto-tune and listening to Akon and T'Pain and people singing like Dennis Hopper spoke after inhaling helium in the scarily strange move, "Deep Purple", it was refreshing to hear: No gimmicks, no studio trickery. Just a great singing voice.
Adele reminded me of Annie Lennox who can still get up there onstage and out-sing anyone with that amazing musical instrument she possesses.
Many times, I think Ms Lennox and Eurythmics don't get the credit they deserve. I listen to Lady Gaga and think she owes or has been inspired one helluva lot by that first big Eurythmics' hit, Sweet Dreams.That one synth line to this song has made its way onto many major hit tracks with some minor changes here and there.
This was one of Dave Stewart and Annie Lennox's finest moments and its influence can still be heard today. There is a television show in all of this, Captain Dave.
The track also broke the pattern when it came to the creativity of music videos and fashion. My gawd, Annie Lennox had- good grief- orange hair! What was going on? Creativity and talent were being combined, that's what was going on.
Real singing voices: Who has had them and who has them today? To me, Sam Cooke had one of the very best. Probably the very best. Classic.
Art Garfunkel has a pure singing voice though many rubbish it as being void of emotion. Of course there have been all the great soul singers- Otis Redding, Marvin Gaye, Aretha, Stevie, Dylan, Sinatra, Tony Bennett, Ella, Billie, Lennon, Henley. White people can have soul, too, you know. McCartney is another with a great singing voice though some may disagree with the word "great".
Who is a "good" singer today? Alicia Keys? Bruno Mars would be up there along with Adam Lambert though we know many who would disagree with the latter name. And definitely Ben Semmens even though we have a vested interest in this lad from Wales.
He has an amazing voice whether in the studio or not and will make it based purely on his voice and songs. The guy is pretty f***ing great in a sea of mediocrity. Here is one of his latest songs and when he opened recently for Feeder.
………………
WHY THE HONG KONG JOCKEY CLUB SHOULD HAVE GONE HARDCORE
Over the weekend, Cathay Pacific Airways and the Hong Kong Jockey Club played host to the most important day in the local horse racing calendar- The- what else?- Cathay Pacific Hong Kong International Races and which attracted some of the greatest jockeys, trainers and horses in the world, all of which produced some stunning racing for gambling mad Hong Kong.
Yet, we cannot help wondering if Cathay and the HKJC missed out a PR and marketing coup by not booking a band rocking out last Wednesday- the very night when Cathay Pacific were sponsoring their Hong Kong International Jockeys Challenge?
Away from the galloping hooves, choruses of "Diiiiiiuuuuuuuuuu"- a Chinese term of "endearment" whenever a hot pot bites the dust- stunning rides and numerous prize giving ceremonies, there in the ritzy and quite trendy restaurant The Pawn, the Chairman and CEO of the airline was rocking out for the "Pawn To Rock" charity along with a few other bands made up of Hong Kong-based CEOs- like the mighty Uranus and Donner und Blitzen.
Yes, Tony "The Tiger" Tyler, was up onstage rocking it up with his band Hardcore which includes other well-known and truly heavyweight CEO around town such as David Harilela who heads up his family business- The Harilela Group.
http://edition.cnn.com/video/#/video/business/2010/12/02/stevens.hk.rocking.ceos.cnn?iref=allsearch=
Being brought up on Steppenwolf, the Stones, Led Zep etc, we have to wonder what Tony "The Tiger" Tyler thinks of the awful entertainment fare CX and the HKJC trot out at regular intervals for equally bored punters? Last week, there was pseudo-model and now pseudo-DJ Carrie Chau, some woman singing a very lame version of "Hero" and the Police Marching Band.
Wait: Maybe Tony "The Tiger" doesn't give a rat's arse as he has rocked on from CX to a brand new- and bigger position: In a step that highlights Asia's rapidly growing role in commercial aviation, IATA's Board of Governors recently announced it Tyler will succeed Giovanni Bisignani as leader of the organization when Bisignani retires following the 2011 AGM next June.
Will this mean "The Tiger" slowing down? Only if it's the Larry Williams' "Slow Down" and covered brilliantly by the Beatles with an outstanding vocal by Lennon. Great video below.
Now, if only our world leaders form bands and rock out for Peace.
………………………….
HANDS IN A NEW TWIST?
This Guy Hands/EMI/Citigroup story has now become bloody boring- and out it came again with the same regularity over the weekend. How many ways can one say that one company is down the crapper? It almost needs a punchline- something like "Until it runs out of Hands".
The only new twist to this is that one company from Hong Kong and another from India are likely to acquire the company. And then what? But what can one say about rumours?
The other one is that Little Richard Li wishes to purchase Shanghai's top club M1NT. And do what with it?
Guy Hands may soon lose control of EMI: report
LONDON | Sun Dec 12, 2010 3:08pm GMT
LONDON (Reuters) – British financier Guy Hands may lose control of music company EMI in the next couple of weeks as talks intensify with Citigroup Inc (C.N) regarding the takeover of the music group, the Sunday Times reported.
Hands has started to tell his backers to expect the worst after losing a courtroom battle with Citigroup last month, it reported.
Citigroup, EMI's main creditor bank, provided 2.6 billion pounds ($4.1 billion) in loans for the acquisition of the music recording and music publishing company and Hands has been fighting to keep the business after breaching the terms on its debt.
Terra Firma, Hands's investment firm, may keep a small stake but will lose operational control, the newspaper said.
……………….
NESCAFE AND POLITICAL CORRECTNESS GONE STUPID
Humour is a wonderful thing and humour in advertisements can work so well when done correctly. A few years ago, Hong Kong and other parts of Asia advertised and sold a brand of Toothpaste called Darkie for almost a decade. It featured a grinning black man with pearly white teeth. Someone finally raised a fuss about it and Darkie became Darlie- as in, Hello, Darlie- and with the same grinning black man.
Now, comes this new effort from Nescafe in Hong Kong and which we don't quite grasp.
"The New Nescafe Is The New White" screams out the headline in the poster.
Sorry, but what does this mean? Anyone know or care to hazard a guess?
……………………………..
DID YOU MISS IT, TOO?

Good grief, it feels like every International act is coming to Asia- and almost all at the same time. Urge Overkill? Perhaps? Will some promoters bite the dust? Yes.
Will some acts come and go without anyone even knowing they were here?

Well, if the print ad we kinda thought we saw for Janet Jackson's concert in Hong Kong- and the rest of Asia are anything to go by- probably. We hardly saw the artist's name and thought it was Grace Jones advertising some fashion brand.
But, no, it was for JJ's concert and who has been incredibly quiet for years and is embarking on a World Tour after a very long time with Hong Kong being the first stop.

Also coming out here- Maroon 5, Michael Buble, Eric Clapton, Slash- back again, the Eagles, Taylor Swift, the horrendous Wonder Girls from Korea, MGMT, various "Idolers" and gawd knows who else.

The good news is that tickets are going fast- all except for those of ol' "Slowhand". If local band Uranus were to open for him, we are sure sales will be far more brisk.

And on the subject of Uranus, Ed Bean, below, the band's slashing rhythm guitarist and head of Siren Films is, we understand, being tapped to appear in one of the upcoming season's of "The Bachelor" and where he will choose from a slightly more mature group of ladies.