I wish my friend Bhaskar Menon was with me on Saturday night along with whom he refers to as The Serene One/The Sublime One. This was when Kristine and I watched the Raghu Dixit Project at the Island Shangrila in Hong Kong.
Bhaskar is extremely proud of the progress India is making in so many areas, how most of Silicone Valley is quickly returning "home" and, as a Sri Lankan with a "funky" German-sounding name, I am extremely proud to know the only Asian to ever run a major music company- EMI- and who was personally involved in bringing Ravi Shankar and George Harrison together, working with these two great musicians on The Concert For Bangladesh and was instrumental in making Pink Floyd's "Dark Side Of The Moon" a reality.
Bhaskar, third from the right below along with the strange "cat in a hat", music exec Norman Cheng and MC Mannyleeto, would have stood up and applauded listening the brilliant creativity and musicianship of the Raghu Dixit Project from Bangalore- proof that India is making progress in so many ways- and that when it comes to music, India is not just Bollywood musicals, derivative sounding rock bands, wannabe rappers and speeches at music conferences by my old mate Vijay Lazarus.
Performing for the Forum of Indian Professionals in Hong Kong [FIPHK] – lovely people and very gracious people, by the way who know the many business advantanges of being in Hong Kong and the emergence of China and India as super-duper powers – this is a group I have personally supported and talked up and- what else being a pundit?- pontificated on about what makes them so special. And if their recordings and YouTube links have made you this species known as a fan, watching them 'live' takes everything to another level altogether. One becomes a fan-atic.
Forget the term "World Music". I never knew what this meant and thought it reduced music into categories and some music into almost "lowly" Third World sub-genres. Add a few tablas and sitars over some drums and it was "World Music".
The Raghu Dixit Project plays music- and it is joyful, thoughtful, inspiring music which defies comparisons and genres- yes, just like "just music" is meant to be.
One can feel it in the sound and one can see it in the faces of these incredible musicians. Raghu Dixit might be the Voice of the "Project"- and what a voice it is- but it is a key instrument in the sound of the band.
Watching him- and he is a great showman but not in some schlocky Vagas-kinda way- it soon becomes evident that the man uses his voice to carry the songs, yes, and also blend in with the bass guitar playing of the hugely talented and creative Gaurav Vas, the exceptionally versatile guitar work of Vijay Joseph, the brilliant drumming and percussion of Wilfred Demoz and the outstanding violin playing of Karthick Iyer.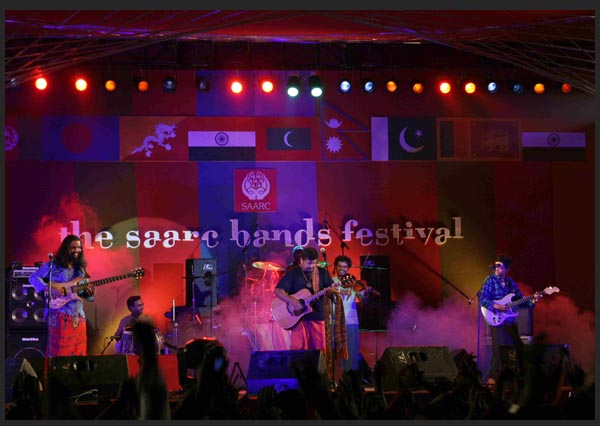 After their second song of the evening, I turned to Kristine and asked, "Can't you hear Sting working with them?" and to which she replied, "What for? What's he going to add? He'll just get in the way." And she's right.
Later, we talked how we had seen two bands in recent weeks and how it would be a lesson in humility for both of them to have seen these musicians.
This was no pretentious effete singer trying to sound "sensitive". Raghu Dixit sings everything out. Even a sensitive vocal works as a loud whisper. And what a voice!
Words won't do this voice justice. It has just as much soul as the voices of Otis Redding, Sam Cooke and Dylan. You must hear it 'live' to experience it along with the sound of the entire band in a 'live setting- and to watch the sheer joy their music brings to the audience.  And girls might just wanna have fun and Indians just love to dance.
This is a band that is musically more tight than my jeans and it is infectious- not my tight jeans- and  evident that they enjoy feeding off each others' strengths. Their musical breaks, the time changes, the instrumental breaks- all of this is a musical education to many bands from anywhere in the world who think they know it all and "just need to be discovered". Think again, sonny boys.
Not to sound corny and hackneyed, but seeing this band and hearing their music is almost a religious experience. And it humbles you.

If the book says, "Eat, Pray, Love"- an awful movie, by the way and with some horrible mis-casting- someone should add the music of the Raghu Dixit Project as the musical link to all three.
In the two hours they played that night and why people danced, I "heard" snippets of Clapton, Eddie Van Valen, and Bob Marley. I heard Sting, Paul Simon's "Graceland", Led Zeppelin's "Kashmir" and the Indian raga-influenced string arrangements and tape-loops which the Beatles and George Martin loved to create on tracks like "Tomorrow Never Knows" and "WithinYou, Without You."
More than anything else, I heard the Raghu Dixit Project.
In October, they played at the OneMovement Festival in Perth and where they also performed with Australia's Mama Kim and full marks to David Chitty and "Chuggie"  for inviting them to be part of the event.
Last week, they became the first Asian act to appear in the UK on "Later…with Jools Holland". And Jools Holland knows his music.
The question is, What's Next for the Raghu Dixit Project? Or the question I keep asking myself and also about many artists and projects: And now what?
Personally and having been born in Sri Lanka, I would hate to have this excellent band pigeon-holed as being a "brilliant Indian band". I am all for Asian Pride, but I also see it as a hindrance- in the West and in the East.
Though averse to the term "Crossover act", I do believe the Raghu Dixit Project needs to crossover. By this, I don't mean some insignificant or almost gimmicky "East/West" and one-off collaboration with Bowie or Sting or Peter Gabriel.
Sure, a new album and produced by someone like Daniel Lanois or Bob Ezrin who can bring out their 'live' sound should be something to aim at.
Touring and getting the music across to as many people as possible, yes, of course. But all this takes time and money and the world- and the music world- is moving faster than ever before. How does one fast-track a band like this?
Well, for starters, there is no band like this. This is also a band that can connect with fans of everyone from Ben Harper and the Blind Boys Of Alabama to Slash, Kings Of Leon and Jay-Z.
There is no time for "paying dues"- not these days- plus these musicians have all paid enough dues. Music is all about "connectivity" and which many tend to forget.
The Raghu Dixit Project from India offers the world something new, something fresh and music which crosses cultural, language and spiritual boundaries and now needs to aim at playing on the same bill as some of the names mentioned and have its own television special and make use- creatively- of all the new mediums at the disposal of musicians today.
My company manages an exceptional singer-songwriter from Wales named Ben Semmens. His song and voice? Incredible. Like the Raghu Dixit Project, like Raghu Dixit himself, he, too, is waiting to be heard. And for him, too, the time is Now.

These two artists collaborating together and sharing the stage at OneMovement and every other kind of musical movement with, perhaps, the visual artistry of the magnificent Akran Khan Dance Group? Magic. And I know the song that will bring them all together.
There comes a point in time to stop asking for advice, making "concessions" for half-baked talent, to stop whining that the music industry is finished and getting together to find "solutions". This is just bollocks and a waste of time.
Leading with the gut is often the "best pair of ears" one can have and when one intuitively knows what's right, who's wrong, who talks the talk and cannot walk the walk and who has It, who doesn't and when to just get out there and f***ing do it, baby.
The time for this is Now.

Hans Ebert
Chairman and CEO
We-Enhance Inc