There's something strange, in the neighbourhood. Who you gonna call? Ghostbusters? Nah. Kelly Rowland. Kelly Rowland????
Well, something like that. If a brand/sponsor wants an International artist today for a private function or one of those "East/West" type shows/concerts in Asia- especially Greater China- odds are that they will ask for Sean Kingston, perhaps Akon, T'Pain and Flo Rida, but with the "winner" by a proverbial mile being Kelly Rowland. Why?
Perhaps like Michael Learns Rock [MLTR] from Denmark, she's been putting in the air miles to become known to an important group of people in this region- sponsors and brand managers who know very little about music except that they sometimes need it. Familiarity means less work for them and so they keep going to the same well all the time as it is rarely empty.

So, when they need this thing called music, there seems to be some kinda Dummy's Guide For Music for Brand Managers and where they are taught that nothing can go wrong and their jobs are safe if they book Kelly Rowland. Yes, it is very much like, "Need an attractive female Black artist? Go to that well and get Kelly Rowland".
MLTR, as many know, spent most of the Eighties and Nineties bringing their gooey Kjeldsen's cookie-cutter brand of Danish schmaltz to Asia and are still milking the region dry- at least in China.
In fact, at the start of December, the band is back for concert dates in the Mainland having just been there a few months ago. Need a white band playing sentimental goo and cannot get the Bee Gees, Bryan Adams or any boy band? Get Michael Learns To Rock.
They, too, know how to play the game and the easy money to be made in Asia. Where else  can MLTR go? Certainly not to their home in Denmark where many think they have retired. In China, they are megastars.
For a time there, the demand for Kelly Rowland to appear on sponsored variety shows was quite amazing. Who cared about Mariah and Whitney and Beyonce and Alicia? Did she have a hit in Asia? No. Did her records sell in Asia? No. Do they now? No. But, she was a Destiny's Child, she was possibly the closest "thing" to Beyonce and soon she became the closest "thing" to having a female "Urban/R'nB" artist on a bill.
If a promoter, one could not go wrong putting forward the name of Kelly Rowland to a sponsor. Was this sloppy music marketing? Of course it was- and still is.
People can stand up and talk about "band and brands" though, sadly, most brand managers no squat about the subject. The worse thing is this: They think they do and end up with "variety" show/concerts with some of the most surreal names and the usual need for an "East/West" duet.
As for Kelly Rowland, over the past few years she has appeared in shows for Subaru, Courts and Marina Bay Sands in Singapore  and, next month, will appear for Guess in Malaysia.
Those wonderful marketing people at Hennessy who seem to know nothing about music marketing   along with their "music marketing" company in Greater China called Best Shine, have almost single-handedly made Kelly Rowland "the most wanted International act" on many of their Hennessy Artistry bills in Greater China. And, good grief, what lethal and bizarre musical cocktails they have managed to concoct over the past few years!
We have had to deal with Best Shine and through them, Hennessy and the last minute chopping and changing and demands and new demands for things like "blending"- their own word for duets- have had us reaching for our fair share of tranquilizers. They sure want their pound of flesh and the marketing gurus at Hennessy have them by their short and curlies.


In Greater China at least, Hennessy Artistry should be re-named Hennessy Dentistry for the novocain promoters have had to inject into their systems to relieve the pain of dealing with "Shoe Shine"- sorry, Best Shine- who are totally clueless about International acts.
They have no idea where to find these acts, they are clueless as to who they are, they have no idea what they want and are constantly second-guessing their seemingly equally inept client: "Can you get me Flo Rida?" "No, can you get me a Black guy who is not a rapper?" "Can you get me a band that looks 'rocky'?" "Can you get me Kelly Rowland?" "Sorry, man, I have no idea what the client wants", and then the freak out to end all freak outs, "MAN YOU MUST HELP ME! MY JOB IS ON THE LINE!"
If only Hennessy's Head Office knew how its team in this region has completely missed the point in understanding this musical platform and cocked up any branding exercise which might have existed.
It's the blind leading the blind and with rampant subjectivity and ignorance and arrogance replacing customer tastes and needs and any semblance of a strategy.
Then again, honestly, who cares if Hennessy, Martell or Chivas "sponsor" an act? Which consumer is gonna care or bother to "switch brands"?
The only people who will care are the people who sell these brands the acts and put-together these hodge-podge shows and the marketing goof balls who must spend their marketing budgets and then send "successful case studies" to Head Office who, on their side, send over an entire army of corporate groupies to mingle with the celebs and have their photos taken for the social pages. And you wonder why the "music world" is so bereft of, well, music and other good stuff?

Chivas is said to have paid a cool US$1 million to Black Eyed Peas to get them to China a few years ago.  And then what? Despite their marketing efforts of trying to sell Chivas as a "mixer"- and with Green Tea, mind you, in China-the brand died a death when trying to marry itself with music.
Other than their association with "chill-out music" during the laid-back days of Cafe del Mar, music and Chivas did not mix. Neither does Hennessy and music- at least not the way it is done in Greater China- but on and on they stumble on.

Sponsorship is often very overrated as, simply put, most brand managers- at least in this region- would not know Russell Brand from Brand's Essence Of Chicken.
They are happy to throw good money after bad as it is not theirs and often are arrogant, over-paid groupies. Often we think, they should be sent to some Branding School and be forced to sit down with Coca-Cola and see how that brand has made their partnership with "American Idol" work for the them- and the programme.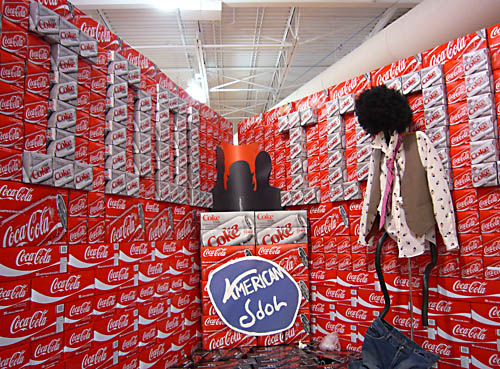 As for Kelly Rowland, we respect her as she has played the Supply And Demand card very well.  She- and her agent- has focused on Asia and where there is plenty of money to be made- if an artist makes themselves accessible .
The singer has made herself very accessible, she is extremely professional, she's not too proud to throw in some Destiny's Child songs into her repertoire- even those where the lead was sung by Beyonce- and so, commands an asking price of anywhere between US$80-100k for around 5-6 songs. Not bad at all and an interesting story in branding one's self and knowing how Asia works and the money there is for artists here- if they play the game right.
This need for "Second Division" or "second tier" acts in Asia- and no offense, but Kelly Rowland is not exactly a household name in the States or anywhere else- is interesting.
Next to Kelly Rowland, which act is almost a shoe-in with sponsors as the token International guest artist for one of these variety shows? Ronan Keating. His repertoire includes his solo hits as well as those of Boyzone. He is safe. He is "sponsor-proof".
Then there is Sean Kingston who gets paid around US$30k to stand around, go "Ugh", sing "Beautiful Girl" and a few songs others songs that sound the same to a MMO backing track. But, some of his recent no-shows have put a huge dent as to his reliability.
Guys like Akon and T'Pain can make huge bucks by just saying, "Ugh, it's Akon/T'Pain in da house" on  duets with a local act on, again, one of these hodge-podge shows and get paid huge dividends.

In a market like Malaysia and, maybe the Philippines, David Archuleta from Season 7 of "American Idol" is bigger than Justin Bieber.
This kid can easily command US$300,00 a show- as can "Idol" alumni David Cook, Kris Allen, Adam Lambert and even Jason Castro. How much would they make in the States or the UK? The UK? Squat.

Bieber is asking for at least US$800,000 a show in the region, but the interest is lukewarm. Archuleta? They LOVE him in Malaysia and the Philippines. And why not? The kid is good at what he does and he and his management have made him accessible to Asia.

Here's the deal: Artists like Mariah Carey, Beyonce, the Stones, Kanye, Jay-Z etc can come out to Asia once- and that's it. Some promoters have gone tits up bringing in these Big Names.
In a new music market like China, for example, audiences don't care about "names". It's all about hearing some- any- music.
As mentioned here before, who would think that Diane Reeves has a huge following amongst jazz buffs in Shanghai. Why? She has toured the city time and time again.
There is money to be made in artists and the smart artists with the smart management know how to do this.
Right now, this region almost has too many acts coming into cities- and acts few really want. There is a great deal of supply and, often, very little demand.
It's almost Overkill and with Big Name acts coming in the next few weeks and months being Taylor Swift, Clapton, Michael Buble, the Eagles, Gorillaz etc.
If a promoter and musical tastes aside, I'd just book Susan Boyle, rake in some huge bucks and get it over with.

But the smart "second tier" acts- MLTR, Kelly Rowland, dear old Sarah Brightman, Croatian pianist Maksim- they avoid the concerts.
They come here as paid and invited guests of sponsors for their shows- and produced largely for the trade. They make friends with these sponsors- and their trade people- and who have their own shows- for their clients.
They can be flexible with their prices. And their schedules. And so, they are asked back- time and time again. Like Kelly Rowland, like MLTR, like Maksim.
And if it's money for jam and someone is buttering your toast, who needs to not look a gift horse in the mouth?
Hans Ebert
Chairman and CEO
We-Enhance Inc